There's so much going on with social media it's hard to keep up. There are always new features being added to Facebook, LinkedIn, Twitter, and Pinterest — and with all of the other responsibilities on your plate, staying up-to-date with the latest and greatest can feel like you're running on a really fast on a tredmill while attempting to juggle. It's hard.
That being said, being on the forefront of social media changes isn't impossible either. There are many things you can do to keep on top of the latest trends. So here are a few suggestions on ways you can do just that — even by using social media itself!
1) Create a stream on Twitter with popular hashtags
The best place to find out the most recent news about social is … social media! Start by creating a stream on Twitter with popular social media hashtags. You can use terms like #socialmediamarketing, #smchat, or #TwitterTip — if you need more ideas, check out Hashtag.org. Be careful of using something too general (like #marketing) because you will soon see a swarm of tweets flooding into your stream.
HubSpot customers, you can create your stream right in HubSpot using Social Inbox. First, start by typing your hashtag into the search box at the top.

Then check out your results! You will see a list of people matching your search term and tweets matching your search term.
If you like the sample results that you see, you can create a stream with that hashtag.
If you're not a HubSpot customer, you can save searches directly on Twitter in a very similar manner.
2) Make a Twitter list of influencers in the industry
The beauty about social media is that the people who are experts in it often hang out there. Whenever there is a new announcement or takeaway regarding social media, you will find influencers tweeting and having discussions about it.
Use the hashtags that you gathered in the previous example and pick out the most active and/or insightful people tweeting there. Make a Twitter list based on your findings and spend some time each day running through the list to see what they have to say. And don't be shy to ask them questions yourself. After all, that's what social media is all about!
If you want some help getting started, here's a list of social media experts and influencers that we admire. It is a public list so you can follow it, too.
3) Use Google Alerts on terms and influencers
Now that you have a list of influencers that you can follow on social media, you can set up aGoogle Alert for some of them. That way you will get regular updates when they post content or are interviewed about social media. Pick your top three favorite influencers and set up Google Alerts for them. This will help you stay up to date on any breaking news in the industry. A bit of a warning though, I would recommend getting these alerts once a day so your inbox isn't completely clogged.
All you have to do is type in your search term (the influencer's name), select the types of results you want to see (news, blogs, videos, etc.), select your frequency, and you are ready to go.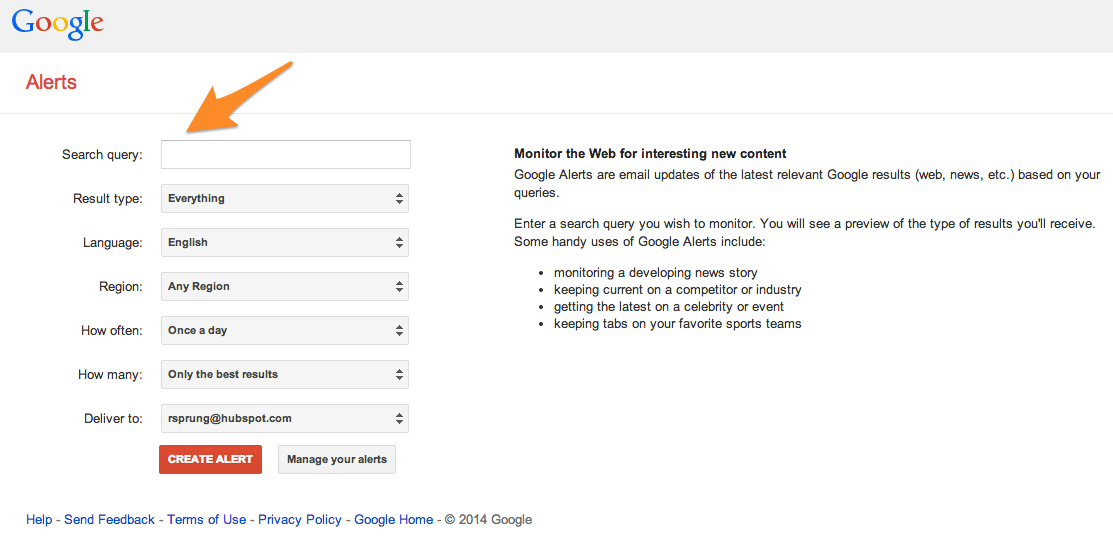 You can also choose to do this for certain social media terms or trends. I recommend getting as detailed as possible though because if you search for something general like "social media," you will get more results than you can manage.
4) Join LinkedIn Groups
Discussions on LinkedIn about social media for business are extremely lively. Whether there's an update to Facebook, a new social network that's making traction, or a new theory on the future of social media, you are sure to find it in LinkedIn groups. Even better, you will meet a lot of other social media enthusiasts that you can network with and ask questions.
Here are a few I recommend checking out:
5) Subscribe to social media blogs
Also subscribe to a few blogs that post content about social media so you can be sure that you won't miss anything. If there's a new feature or trend, it will definitely be on written about in detail on these blogs. More important than subscribing to these blogs is making sure you set aside time each week to read through your content. Block off as much time as you need to go through the content — that could be anywhere from 15 minutes a day or 15 minutes a week.
Here are a few blogs to get you started that frequently cover social media:
6) Go to a conference or monitor a Twitter stream from the conference
Take the time to go to a social media conference. This will be a great opportunity to hear from social media experts in the industry and be able to ask the burning questions you may have. You will get the most up-to-date advice about running a social media campaign and what you should know when using social media.
However, it isn't realistic for all of us to pack up and go to every single conference that talks about social media. If you are unable to attend the conference in person, you should definitely follow along remotely. Every social media conference will have a corresponding Twitter hashtag that you can follow during the conference, and a lot of the tweets will be quotes from the social media sessions so you will still get access to some of the information shared there.
CYO Marketing is the premier digital marketing agency in Youngstown, Ohio. We help organizations with consultation and ongoing management. You should contact us today, we can help you with your social media strategy!
Download our complimentary Enterprise Inbound Marketing eBook. This is a great way to learn more about planning your inbound marketing strategy.
Throw Back Thursday with the #tbt is a tremendous opportunity for you to market your business by taking advantadge of this trending hashtag! However do you ever how Throw Back Thursdays became such a phenomenon?
It's kind of like asking who is responsible for the hotdog, ice cream and french fries. While we might not put these individuals into on the Mt. Rushmore of great inventors we celebrate these gifts daily or in this case every Thursday.
Contact us for free marketing consultation and how to incorporate #TBT into your digital strategy!
Are you one of those social media fanatics who uses the hashtag#ThrowbackThursday, #TBT, or #Throwback when the day hits well, Thursday? Ever posted an old picture or anything that is a memento of the 90'sor so? Had you ever wondered how this weekly trend or hashtag game began? I did.
Throwback Thursday basically refers to old (not ancient) pictures uploaded only on Thursday. Considering this started in the era of the techie generation, the only reasonable source of information would be internet itself. Unfortunately, even with the unlimited resources found in the internet, it is hard to trace back and pinpoint the exact origin of this popular online craze especially on Instagram and Twitter. So far, this is the best timeline of the phrase Throwback Thursday I could make of from my resources:
2003 (March) – the word Throwback was first defined in the Urban Dictionary.
2006 (January) – first known blog appearance on Saxton Moore's blog.
2006 (July) – the first Throwback Thursday series started by Nice Kicks' blog.
2006 (July) – for the first time, Georgia Tech football game was themed Throwback Thursday.
2011 (February) – the first recorded Instagram hashtag of the phrase was made by @bobbysanders22 on his hot wheels photo but there's no guarantee that this was actually the first one in the said application.
2011 – it became popular in the blog community
2011 (November) – the hashtags #throwbackthursday and #tbt became Instagram's recurring trend.
2012 (January) – the phrase Throwback Thursday was included in the Urban Dictionary.
2012 (February) – socialite Kim Kardashian began her series of Throwback Thursday photos on Instagram and Twitter.
2012 – Throwback Thursday and #tbt gains popularity all over the social media channels inlacing, but not limited to, Instagram, Twitter, Tumblr,Flickr, Pinterest, and Facebook.
And the rest is history.
This is the launch of our #TBT blog series which we will highlight all things Throw Back Thursday in relationship to marketing, advertising and all things about our hometown of Youngstown, Ohio. Be sure to subscribe to get our blog sent right to your inbox.
CYO Marketing is the premier digital marketing agency in Youngstown, Ohio. We provide consultation and ongoing management of digital marketing strategy. For consultation on digital marketing services be sure to contact CYO Marketing. We will help you make sense of social media so your digital marketing strategy will generate revenue for your business.
Since 2006 there's been a movement towards moving away from traditional disruptive marketing tactics. Such as TV commercials, print ads, billboards, telemarketing phone solicitation, fax blasts, emails that you don't sign up for, etc. which can be very expensive and unobtainable for most businesses. CAN-SPAM laws make it illegal and potentially very costly for sending mail, faxes, email without permission or an opportunity to opt-out.
Yet companies still do it. And it's senseless. In a day in age where a business of any size can have the same presence as a multi-national corporation online. Digital marketing gives you the ability to specifically target and track ROI, more so than traditional media has ever been able…
A solid inbound marketing strategy, that is content driven in order to engage, educate and entice people to interact with brands is proven to generate leads. This type of marketing is permission based, earning your audience through posting case studies, eBooks, writing compelling blogs and integrating a social media strategy to help build a community to distribute content.
Your tribe, your followers, the people interested in your brand, at least 95% of them in 2014 are using the web to start, make and validate their purchasing decisions. Mobile's becoming even bigger in the sense that there are more mobile devices than desktop, as of this year.
The coveted 18 – 34 year old audience has all but tuned out traditional marketing tactics. Engagement through digital tactics not only is proving to generate leads for B2C and B2B, it's changing the game. To learn more about the essentials of an inbound marketing strategy download our free how to, we promise we won't spam you as a result. We encourage you to subscribe to our blog for more great marketing ideas. If you're really interested fill out the information on our Contact Us page and we will be sure to follow up with a free consultation.
I've been called a lot of things I guess we can add guru to the list. Very flattering, thanks WFMJ Today and Jennifer Brindisi!
Every once in a while you're going to eat crow, get egg on the face, put the foot in the mouth and this one is no exception. Flashback to last Friday our blog, Three reasons why LBJ is not coming back to Cleveland.  We were dead wrong and glad that we are, King James in all his glory is back on his rightful throne and all is right with the universe.
While "The Decision" was a complete PR disaster, this one couldn't have went better for the best basketball player on the planet. His reputation took a major hit the way he did Cleveland the first time around and now with a heartfelt open letter announced on a blog, I'm coming home, all is better.
Imagine Larry, Michael or Magic making some big announcement this way. Oh that's right they wouldn't. In the off season they were busy working on their game, getting ready to rip the heart out of their opponents and win championships. And when they did have to make a big announcement they called a press conference, looked you right in the eye and delivered the news first hand. That's how much times have changed!
I love LeBron and love the fact he's back in Northeast Ohio. I need to embrace the modern athlete, this is where we are and the importance of social media, blogging and good PR. For the love of god, we are a digital marketing company so we do in fact endorse the medium.
When 95% of all purchasing decisions start with online search, you better have your house in order if you want to get found. However this isn't about that, it's about LeBron's return home. Never mind the jersey burning or just a month ago the Midol jokes as he cramped up in the finals. He's family, while you can make fun of your family, it's all good. But if someone outside the family makes fun of the family it's go time.
I should step away from predictions, my crystal ball is obviously a little cloudy. LBJ being the best has been unfairly compared to Michael Jordan, although he did rep the #23 in tribute and the whole Miami thing with, "not 1, not 2…"
LeBron's game has always been a little bit more Magic and a whole lot more athleticism, than any of us have ever witnessed in one human being. I don't think he's ever going to get to 6 championships. At 30 I think he's got limited time to win multiple championships. However I do think that if he can win just one championship in a city with the greatest professional sports fans and the worst luck, he'll be catapulted into that same category. Make no doubt about it we will be rooting for multiple titles!
I offered up a free lunch if he came back and you follow me on Twitter, I'm still willing to put my money where my mouth is…Follow me on Twitter @dschiraldi mention this blog and I'll buy you lunch.
Long live the King!
No hype need apply. No Facebook, Twitter or Instagram needed. The Baby Doll dance at the annual Mt. Carmel Society Festival in Lowellville, Ohio is one of those events that many around the area look forward to each year. It is a tradition like no other. It just delivers good times, memories and stories for the past 119 years. It's a good lesson, she doesn't need marketing hype, not all things do! Another fun thing to do this weekend in #liveyoungstown
Fundraisers come in many sizes and shapes. All are for a very good reason, especially when they are near and dear to the heart. We all benefit from this one because we get to beautify Youngstown. We recently worked with the NYO Property Group interns to help fine tune some of their marketing and social media strategy.
Anthony Marchionda is one of those incredibly energetic, talented interns who have taken up a cause and care about the revitalization of our great city. He's a dual threat in the classroom, a telecommunications and marketing major at Youngstown State University and a member of the revitalization student organization, YSUscape.
This coming Friday spend your happy hour kicking off the weekend at the Nove Gatto in the Erie Terminal Building. As it says on the awesomely designed promotion above, this event is taking place this coming Friday, July 18 at 5 – 9PM at the Erie Terminal Building.
This fundraiser is an event, "A Taste of Youngstown" is to help the YSUscape organization raise money for the upcoming mural project on the R&S Building on the corner of Elm and Madison. Their goal is simple, beautify Youngstown as a whole.
In between class, traveling internationally, coming up with great marketing ideas and supporting wonderful causes, I caught up with Anthony and asked a few questions:
Question #1 – Van Gogh or Monet? I go Van Gogh, besides the fact that I've always liked The Starry Night. I admire a man passionate enough to have lost an ear in a fight.
Question #2 – Best art museum you've visited? One might debate the fact that the Sistine Chapel's standing as a museum but make no mistake about it. This place has the most amazing artwork I've ever seen. Michelangelo's art in this historical living monument is something I will not soon forget!
Question #3 – Photography, chalk or paint? While I'm not much of a painter, I've dabbled in chalk as a kid (says jokingly). My favorite medium is photography. It captures the moment and now with applications like Instagram you can really turn boring photos into something very artistic. Which reminds me, be sure to participate in the NYO Property Group's photo contest, post pics to Twitter and Instagram and #liveyoungstown.
See you Friday at Nove Gatto!
As a sales and marketing professional you already understand how many people are not picking up the phone when you call. Prospecting with social media is helping sales and marketing teams connect with prospects. With more than one billion monthly active users on Facebook, and over 230 million monthly active users on Twitter, smart marketers know there's more potential than ever to use social platforms to get their name out there, spread their content, and draw more people to their site. Hey, it's your job to make people aware of what your company can offer, right?
Download our free social prospecting eWorkbook today!
Right. So that's why smart inbound marketers practice social prospecting – the art of scouring the social web, identifying potential prospects for your business, and engaging them to draw them to your site and get those potential prospects to your sales team. You've already got your fans and followers in your social networks. Now it's time to check out everyone else.
About This Workbook
This social prospecting workbook will teach you the fundamentals of how to listen to social media conversations in order to generate leads for your business. It's beyond monitoring keywords. It's about engaging people that may or may not know what your business can do for them.
We've identified the quickest way to find potential prospects on Twitter, Facebook, LinkedIn, Pinterest, and Google+.  We hope you can use the worksheets to help you get started with social prospecting.
Every worksheet includes:
Short preparatory work to make the actual prospecting easy
Visual instructions on how and where to find prospects
Pro tips that will help you get the best results
Prescriptions (Marketing Rx) for success
Take-home exercises for follow-up prospecting
Download our eWorkbook today!
CYO Marketing is passionate about generating high quality cost effective leads for our clients. We implement proven strategies both digital and direct that will help your organization to meet business objectives. Whether it's strategic consultation on how to use social media or working as an extension of your marketing and sales department we can tailor a solution that best fits your needs! Call us today 330.259.6181.
They say that time heals all wounds, except if you're the best basketball player on the planet, have an ego the size of universe and want to win another championship. As for the fans that's another story, I guess everyone's moved on from how LeBron did you all last time. Here are 3 reasons why Bron Bron is not coming back to Northeast Ohio anytime soon:
1. Dan Gilbert – We can start and stop here, plain and simple. Unless Danny Boy's decided to get down on his knees, beg for forgiveness and give the King part ownership of the empire you can pretty much rest assured that King James won't be in the wine and gold anytime soon. Taking down a nasty public letter off your website isn't exactly an act of contrition in my mind.
2. Cleveland – Basketball isn't even second fiddle in a city that loves baseball and is completely gonzo for football.  The reality is that hoops is something to do in the meanwhile. I am a self proclaimed hoops junkie, as least that is says on Pinterest and even I know this, I'm sure the best basketball player on the planet does as well.
3. Cavs – They hired a coach that no one knows from international fame, fail. When they had the opportunity to retain Carlos Boozer, way back when, they failed. They've got an opportunity to sign Kevin Love and LeBron James to complement their other young talent, they will fail.
Although he's referred to as King James he's a complete drama queen. One bad decision after the next (no pun intended) he's not learned from his previous PR disasters. For the fans and the good people of Cleveland don't be that guy that thinks your girlfriend is coming back for the 10th time.
Take your medicine and move on, it's over!  The old saying goes, fail me once shame on me, fail me twice I'm a complete idiot if I believe King James is making a return. If I'm wrong hit me on Twitter @dschiraldi I'll buy you lunch! Heck hit me on Twitter anyway, reference this blog and I'll still buy you lunch! In the meanwhile you've got Johnny Football to look forward to this Fall, buckle up should be a fun ride!